CASE STUDY
Palisades
Differentiating Palisades as a Climate-Conscious Workplace
Atlanta Property Group (APG) made the strategic decision to invest in sustainable technology at Palisades, a 640,000-square-foot, four-building office park, to differentiate the property in Atlanta's Central Perimeter submarket. APG recognized it was important to tell this sustainability story in a big and impactful way so that it would resonate with tenant brokers and companies who value working in environmentally friendly space. APG hired The Wilbert Group to rebrand Palisades and share its new story with those audiences.
After conducting research and deep dives with project stakeholders, Wilbert created a new brand position for Palisades: Office buildings with a purpose — a climate-conscious place to grow your business. The brand position served as our internal North Star that guided all external messaging and design.
From there, we led a naming exercise, ultimately deciding to keep the Palisades name and drop "Office Park." We felt the name Palisades had good brand equity and we liked thinking about the meaning of Palisades as putting a stake in the ground as a leader in climate-conscious workspace.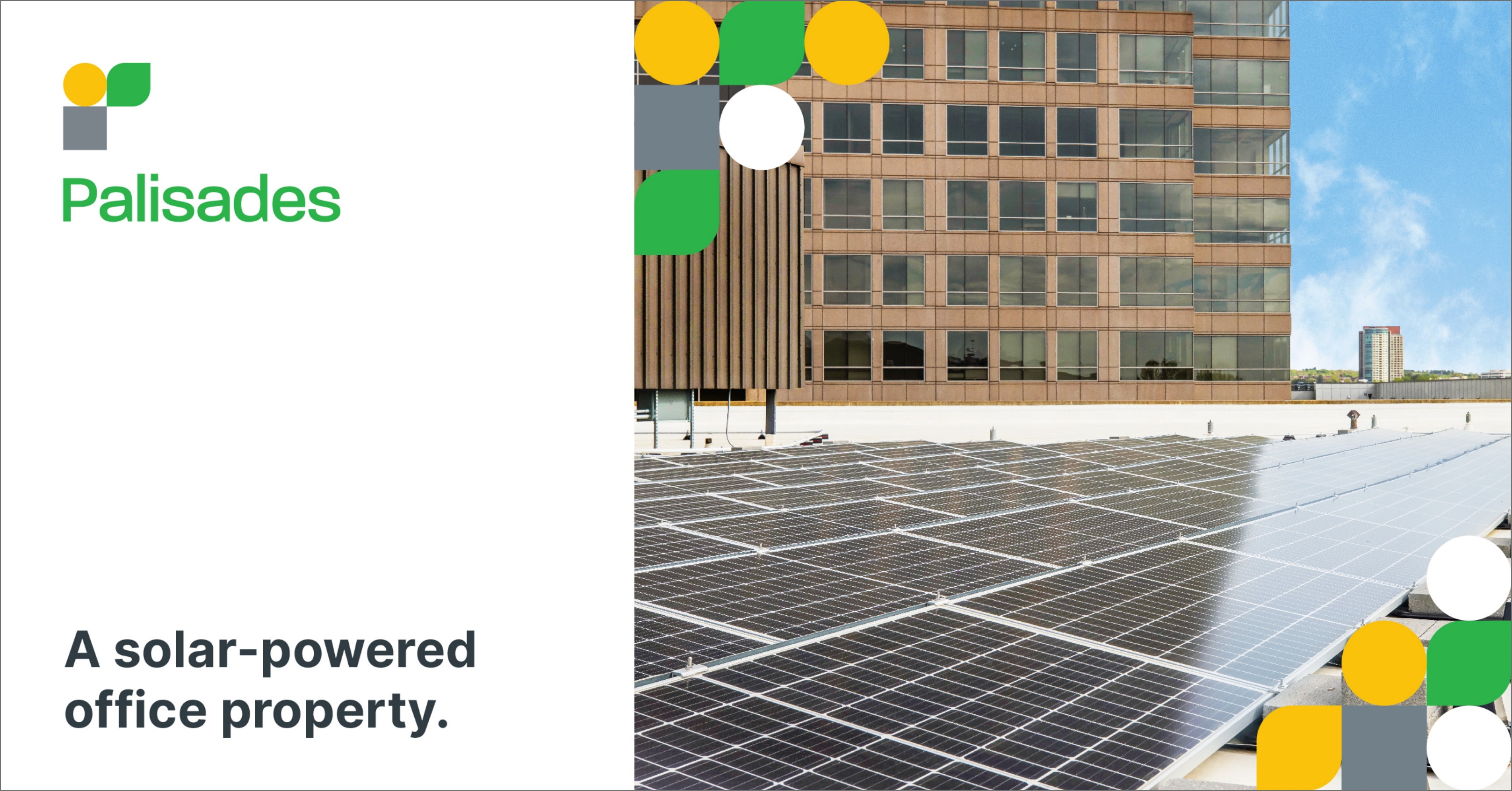 We then developed a message house with a magic paragraph, boilerplate and clear, easy-to-digest facts about the sustainable investments. Key messages included:
APG is transforming Palisades into one of the most climate-conscious workplaces in the Southeast.
The most sustainable building is the one that already exists.
The Plant at Palisades, a 1 megawatt solar plant on the roofs of the Palisades buildings, is the largest of its kind in the Southeast.
Each year, the Plant will offset carbon emissions equivalent to 1.5 million miles driven by the average gas-powered car.
The solar plant plus numerous other sustainable investments will make Palisades' carbon footprint 40% lower than typical Atlanta office properties.
Our design team created a new logo and visual identity system that emphasized the property's solar energy (yellow circle), green investments (green leaf) and building efficiencies (gray square). The use of vibrant colors further emphasize the property's unique sustainability story.
Designed and built a new website, growatpalisades.com.
Organized new photography that highlights people and the community Palisades is fostering around shared values.
Created a series of videos for social media that tell the story in short, snack-sized reels.
Designed a leasing brochure, leasing deck and graphics for the new leasing center.
Created a robust signage package that shares the new branding and quick facts about the sustainability investments throughout the property.
To raise awareness of the changes at Palisades, our PR team pitched a press release to key publications, such as Urban Land, and our social media team launched a series of Dark Ads that targeted tenant brokers in the Atlanta area. Our ads engaged 28K unique users and our videos were viewed 10K times.
Ad Performance — Engagement:
28K
Sign up to hear more from The Wilbert Group