Fenton
Wilbert executes a multifaceted communications program
It started with a naming contest. The Wilbert Group asked the Cary, N.C. community to vote on the name of the forthcoming 92-acre mixed-use development now known as Fenton. This contest marked the beginning of a deep and meaningful relationship with the community that has supported the legacy project at every step.
For nearly five years, Wilbert has executed a multifaceted communications program to support leasing and build goodwill with the community. Our ongoing program includes media relations, thought leadership, social media, influencer partnerships, e-newsletters, video and collaboration on events such as groundbreaking. The goodwill we've built has carried the project through unforeseen obstacles (including construction delays and changes in anchor tenancy) and positioned it as one of the most anticipated mixed-use developments in the country. 
Timeline:
Aug 2017: Wilbert begins partnership with Columbia Development
Jan 2018: Project rezoning approved unanimously
Oct 2018: Approved to purchase land with backing from Town of Cary
April 2019: Hines and USAA partner with Columbia Development
August 2019: Site work begins
Nov 2020: Vertical construction begins (Groundbreaking Ceremony)
August 2021: Topping out at 82% retail leased
May 2022: Soft opening
June 2022: Grand opening at over 90% retail leased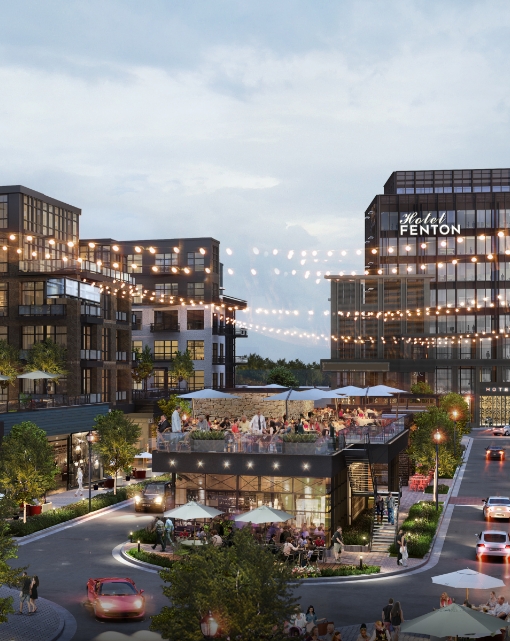 At every milestone, Wilbert generated significant media coverage. As one example, we earned more than a dozen media hits around the topping out, a construction milestone that typically goes unnoticed by the public. Coverage has ranged from placements in local publications like Raleigh's News & Observer, Triangle Business Journal, WRAL and ABC 11, to major trade publications like Shopping Centers Today, Chain Store Age, Shopping Center Business, Commercial Property Executive, Eater and Globe St. To date, Wilbert has earned more than 200 media hits for Fenton.

Fenton's digital media presence has become a shining example within the Hines portfolio. One month ahead of grand opening, Fenton has more than 18,000 followers across Facebook, Twitter and Instagram. Fenton's email program, The Fentonian, has nearly 3,000 subscribers who are incredibly engaged and loyal fans. The e-newsletter has an average open rate of 66.8%, which is much higher than the Mailchimp average. The videos we've created for Fenton have amassed more than 200,000 views. Wilbert also launched a unique social media ambassador program that engages top influencers in the area to trade social media content for VIP experiences on property.
Hines' Paul Zarian said of the partnership: "Wilbert's role has been instrumental to our success. They have strategically communicated Fenton's story to both the real estate industry and the local community. Everyone is talking about Fenton, and it hasn't even opened yet." 
Sign up to hear more from The Wilbert Group