CASE STUDY
E District
Branding and launching a 225-acre mixed-use site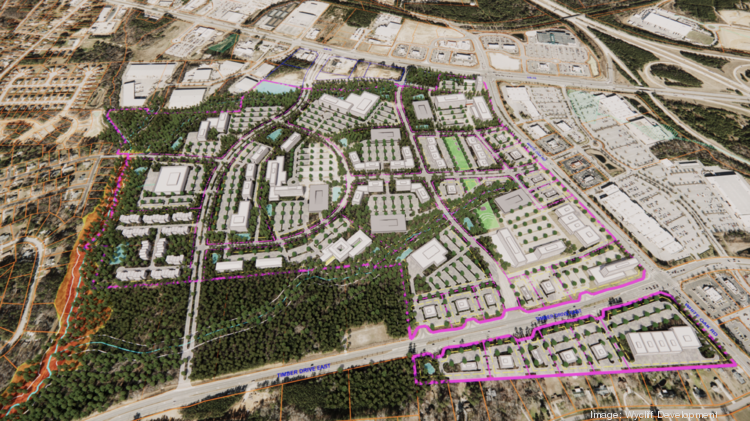 Grady Matthews, former head of Cushman & Wakefield's Raleigh-Durham office, was preparing to launch his own company and with it, a 225-acre mixed-use development in Garner, N.C. After hearing about Wilbert's work on Fenton, a Hines mixed-use development in Cary, NC, Grady hired our team to name, brand and promote his new venture.
Wilbert started by naming and branding Matthews' company, Wycliff Development. We created a mini brand package with foundational elements, including logos, fonts, colors and brand assets, such as business cards and email signatures. The Carolina blue and triangular shapes are a nod to the company's presence in the Triangle.

We then named, branded and built a landing page for Wycliff Development's first mixed-use project, now known as E District.
The name "E District" represents the project's location and the opportunity for it to become the gateway between Eastern North Carolina and the Triangle. There is little land available in the highly sought-after Triangle region, so the project's location is very important to the brand story.
Another important factor is the unparalleled size of the property – 225 acres – and the opportunity for it to become a thriving mixed-use medical district. The brand messaging uses language that resonates with target audiences, including large medical, tech and life sciences users, with words like future, innovation, wellness and connection. The three-dimensional "E" and vibrant color palette represent the variety of uses and experiences E District will bring to the region.
After establishing the brand and landing page for E District, we announced the project and Grady's new company with an exclusive in the Triangle Business Journal, followed by regional and national CRE media coverage.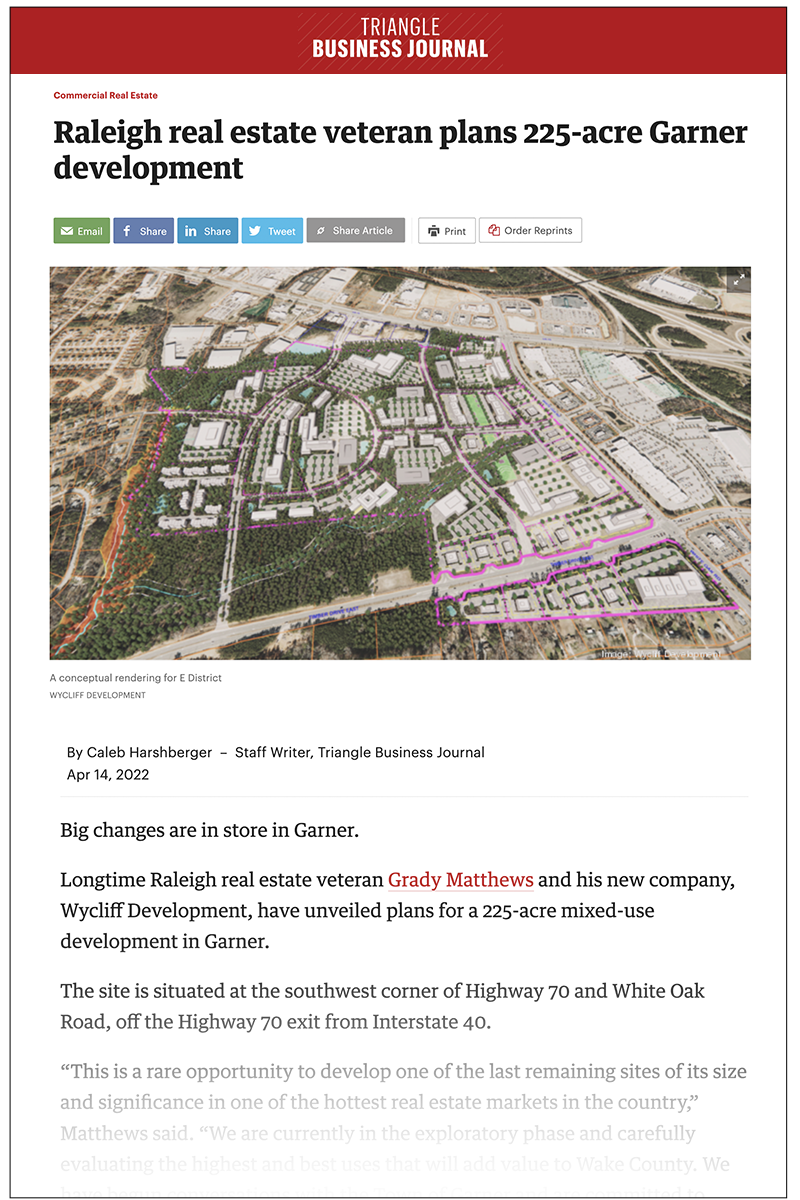 "I've never had more LinkedIn requests and my phone blew up. The story brought 325,000 square feet in tenant requirements to our door. The announcement did exactly what we hoped it would in terms of raising awareness about the 225-acre site."
— Grady Matthews, Principal at Wycliff Development