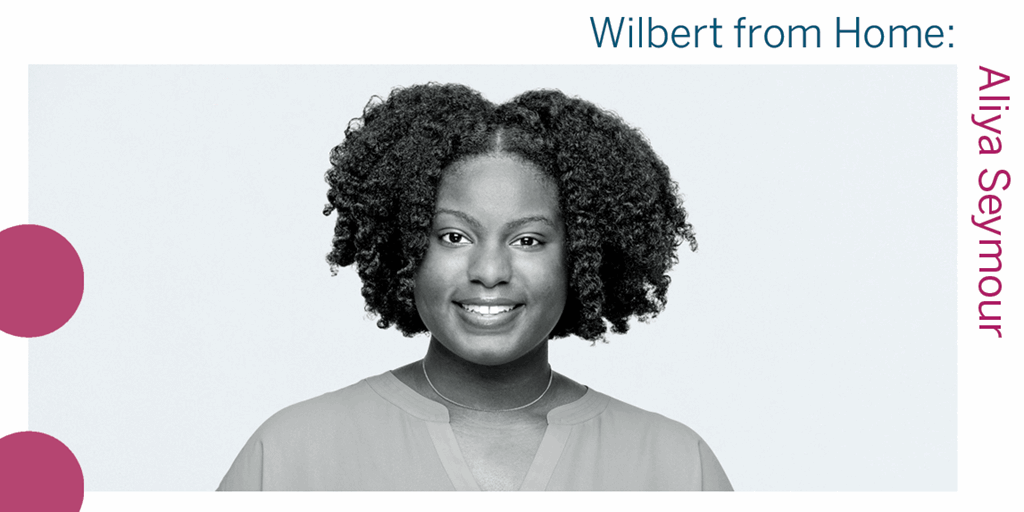 Wilbert From Home
While we're working from home, it's easy to disconnect from who we're working with. So, we're firing up Slack and catching up with Wilbert team members as they serve their clients remotely. Welcome to Wilbert From Home.
In her time at The Wilbert Group, Aliya Seymour has worked her way from Intern to Assistant Account Executive! She now leads teams serving clients such as Cooper Cary, CBL, Engel & Volkers, and Selig Enterprises. Aliya is adventurous, one of the friendliest people you'll ever meet, and can thrift with the best of them.
CM
First question! You started at Wilbert as a fellow coming up on 2 years ago now. In three emojis, how would you describe your experience here so far?
AS
:hugging_face::tada::star-struck:
CM
Love it! What has it been like to manage work/life balance while working from home?
AS
It's definitely been an interesting transition! I try to keep my work area and ~chill~ area separate so there's a clearer distinction between the two!
CM
It's surprising how much having different areas for different activities helps me focus!
What is one thing you've taught yourself in the past months since working from home started?
AS
Lately, I've been trying my hand at baking! I'm definitely a novice, so it's been trial and error :joy: My favorite thing I've made so far is Swedish Summer Strawberry Cake :cake:
:scream:
CM
That sounds amazing! You mentioned that you like to go thrifting in your free time, what is your favorite thing that you've ever found while thrifting?
AS
That's a toughie - there are honestly so many haha! If I had to choose one, I think it'd be my vintage Juicy Couture bag.
:star-struck:
CM
Checking out new restaurants is also something you said you enjoy, and even though we haven't been going to many restaurants lately, have you found any new favorite take-out spots?
AS
Yes! I've been loving the Local Expedition Wood Fired Grill. Such a nice variety of healthy eats! :yum:
CM
What a gem! As you know we give out "Gratitude Stickers" to people on our staff we were thankful for that week. Is there a "Gratitude Sticker" which someone gave to you and has stuck out to you?
AS
Liana recently gave the Cooper Carry team a gratitude sticker for the awesome work we've been doing on the account! That one was particularly special as I love seeing all the wins we've been able to secure for the client :grinning:
CM
That's awesome! Is there a win that you've been a part of for a client this year that has stuck out to you?
AS
One of my biggest client wins this year are the numerous thought leadership placements we've scored for Cooper Carry surrounding post-pandemic design! From trade publications to national media like Forbes, the firm has been well represented as a foremost authority in the design world from our efforts.
CM
Now for the good stuff. If you could only listen to one Justin Bieber song for the rest of your life, which one would it be?
AS
"That Should Be Me" will always be a bop!
CM
Last question! (which we like to ask everybody) What is your favorite question to ask people?
AS
I love asking about places people have traveled to! You can learn a lot about a person based on where they've enjoyed visiting!
CM
So true. Thanks again Aliya for hopping on Wilbert From Home with us!
AS
No problem! This was fun :slightly_smiling_face: